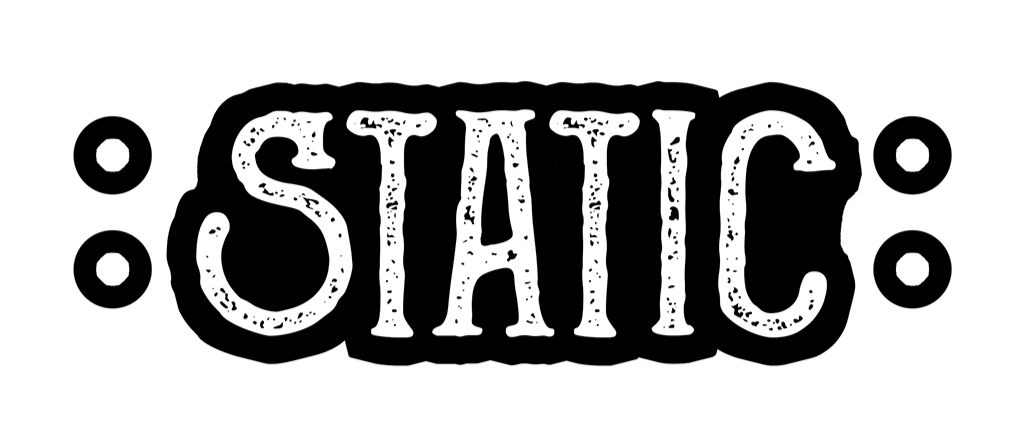 Copyright © 2021 ::Static:: All rights reserved. | Site made using Carrd | Photography by either Hensa Umia or Nama Gearz

STORE POLICY
• EVERYTHING IN THE STORE IS MODIFIABLE •• Refunds / Exchanges •
No refunds or exchanges!
With mod / copy permissions, you are not able to send back any items to me.
With this in mind, giving refunds is not possible unless duplicates were bought.
Please purchase wisely, read the advertisements carefully and try on demos.• Alternate Accounts •
I will not send items purchased on one account to another one.• Customs & User Modification •
Unfortunately I don't have time to do custom work.
The buyer is responsible for any modification to the product that extends beyond it's initial design.
I will NOT give out my Photoshop files for skins or other textures!
WHAT WAS I WEARING IN THAT AD?
FAQ
THINGS TO KNOW》I can only speak English. I will try my best with auto-translate if needed.》Please don't send me a friend request if I'm just doing customer service for you. I will ignore it.》 I don't sell / give away my mesh or textures full perm. Don't ask anyway.》 I price things how I do for a reason. If you think things are overpriced, check this out.》 I do not RP.THE ACTUAL FAQ》 Can I ask you a question?
Yes. Though perhaps it is better to lead with the question instead.
Drop me a notecard if you need to ask something not covered in this FAQ!》 Are you going to have fatpacks of your gachas after the great gacha ban of 2021?
Yes, though it will take a while to get everything re-permissioned and repackaged so don't expect for them to return immediately.》 Where can I get a devkit for the avatar you made?
You can find those over on the Downloads page!》 My item wasn't delivered!
If an item did not make it to you, there are redelivery terminals at all my stores. The marketplace now has a redelivery feature as well.
If it still fails, contact Nama Gearz in-world for assistance. Note: I can't redeliver Blue Galaxy products.》 Do you take commissions?
I don't do customs or commissions, and will very rarely do collaborations.》Can I pay you for your model/mesh from SecondLife to be used in another platform?
No. It would be very hard to keep track of how my assets would be used outside SecondLife, so I'm not giving permission for any of my work to be uploaded on the following (but not limited to) platforms: Sansar, VR Chat, High Fidelity, OpenSim, SineSpace, Unity, or Unreal.》Can I have items for free to blog?
I only give items out to those on my blogger team. If you have interest in becoming a blogger for ::Static:: check the Blogger page.》Affiliate vendors?
I will never do affiliate vendors. I want to remain in control of where my work shows up.》 I'd like to invite you to my mall / event!
If you'd like to invite me to take part in an event, please see the Events page!
Group slots are scarce so for mall spaces I have to be choosy, but send me a notecard and I'll have a look!》 Are you going to rig that to Kupra?
I rig to the Kupra body if I can. Though the proportions are so exaggerated that some items would just not be possible or would not look good stretched to fit.》 Can I have the script in one of your items? Or maybe a morsel of HUD script?
Most scripts used in my work are custom made for me and only me. For general use HUD scripts, I've used PXL SmartHUD for many years now.》You said everything was modify! Why does it say "no modify" next to the item in my inventory?
All of my items are modify! Though the scripts inside are not for reasons that should be obvious if you read above. The mesh or prim is modify / tintable / adjustable.》My HUD doesn't work!!
One thing people don't often think about is large HUDs that have invisible parts that overlap other HUDs and make them unclickable. Check for any body, AO or combat HUDs that may be in the way. If the problem persists unpack a new one. Still? message me!》 Why can't I buy anything from you????
If it's just the marketplace, I likely have you blocked. I only block people for being extremely obnoxious / inflammatory / rude, so you would've earned it. If you're blocked from using my Caspvervendors / Mainstore, you extra earned it. I have every right to deny someone access to my products for any reason. If I don't want your business, that's my choice. Remember this and BE NICE!》 Need a color ref from something in SL?
Hit CTRL-A, then go to Advanced > UI > Show Color Under Cursor, RGB color will be shown when you hover over.
For best color accuracy, set the item to fullbright before color picking.》Can you teach me how to Photoshop / Maya / Blender / art?
No lol》When will the Blue Galaxy vendors be back up?
They're back up now.》Where did all your BG Feline mods go?
They'll come back eventually now that the vendors are back online. It may take some time.》Do you collect any data from me at any point when I buy from you or use your products?
Apparently this is a thing some creators do??? I do not collect any data from my customers except purchase data from Caspervend which is logged automatically by that system for redeliveries and then the normal SL transaction history that everyone has. If I start collecting any data, I will mention it here.
Copyright © 2021 ::Static:: All rights reserved. | Site made using Carrd | Photography by either Hensa Umia or Nama Gearz

COMING SOON
With my new in-world shop redesign will come a new VIP group feature! It's not quite ready yet, but here is what it will offer:The ::Static:: in-world VIP group comes with a few benefits. Join for a massive amount of freebies previously only obtained through events and also exclusive group gift celebrating 1000 flickr followers! There will be a special VIP room where special colors of various products will be available just for you! Other milestones will also be celebrated with cool new rewards so don't miss out~
Copyright © 2021 ::Static:: All rights reserved. | Site made using Carrd | Photography by either Hensa Umia or Nama Gearz

• RUNNING & UPCOMING EVENTS •
| Event | Creation | Dates | Location | Flickr post |
| --- | --- | --- | --- | --- |
| Fantasy faire | Fancy Hat & Horse Lantern | April 21 - May 8 | taxi | post |
| Fantasy faire | atlantian armlets | April 21 - May 8 | taxi | post |
| Warehouse Sale | auspicious horns | April 23 - May 18 | taxi | post |
| Dreadmorne | Lakelurk Collar | May 6 - 31 | taxi | post |
| Abnormality | Static Parasthesia | MAY 7 - 28 | taxi | post |
| Solstice | Wizarding Textbooks | May 12 - June 5 | | |
| Warehouse Sale | Nobles' Rings | May 23 - June 18 | taxi | |
WANT TO INVITE ME TO YOUR EVENT?
I may be interested! Send me an info notecard about your event and I'll see if it piques my interest. Be aware though, I may not have time to join your event for various reasons. It may be too short notice, I may have the month of your event already full on my schedule, or I just may not be inspired by your theme at the time. I will reply / apply if it is something I would like to participate in though!DROP YOUR NOTECARDS ON NAMA GEARZ IN SECONDLIFE
WANT TO GO TO MINE?
I host .The Guild. (formerly Gacha Guild) on SecondLife every March and October. The event boasts a new, sprawling build each time and lots of extremely creative gachas made by some of SL's finest. I've been the builder for .The Guild. for the past 5 years now, and each year brings new challenges and more great fun creating this iconic and unique event!
---
PAST EVENTS
Copyright © 2021 ::Static:: All rights reserved. | Site made using Carrd | Photography by either Hensa Umia or Nama Gearz

Just look at these talented people and how awesome they are!
The images they create are all absolutely stunning and expertly crafted works of art~
AKIRA VOORHEES
Blogger Manager
FLICKR
WANT BLOG FOR ::STATIC::?
Currently applications for new bloggers are CLOSED. If we open back up for fresh talent, look here for the form!
Copyright © 2021 ::Static:: All rights reserved. | Site made using Carrd | Photography by either Hensa Umia or Nama Gearz
ARTSTATION • SKETCHFAB
For a better view of my 3D work without waltzing into SecondLife, visit my two galleries above!
There I will showcase only my best work and exhibit my range of ability through all manner of themes and project complexities.
Copyright © 2021 ::Static:: All rights reserved. | Site made using Carrd | Photography by either Hensa Umia or Nama Gearz

I've gotten many requests of "What are you wearing?" so here's a neat list sorted by ad image!
Backdrops will be mentioned only if I can remember them. They are often custom built.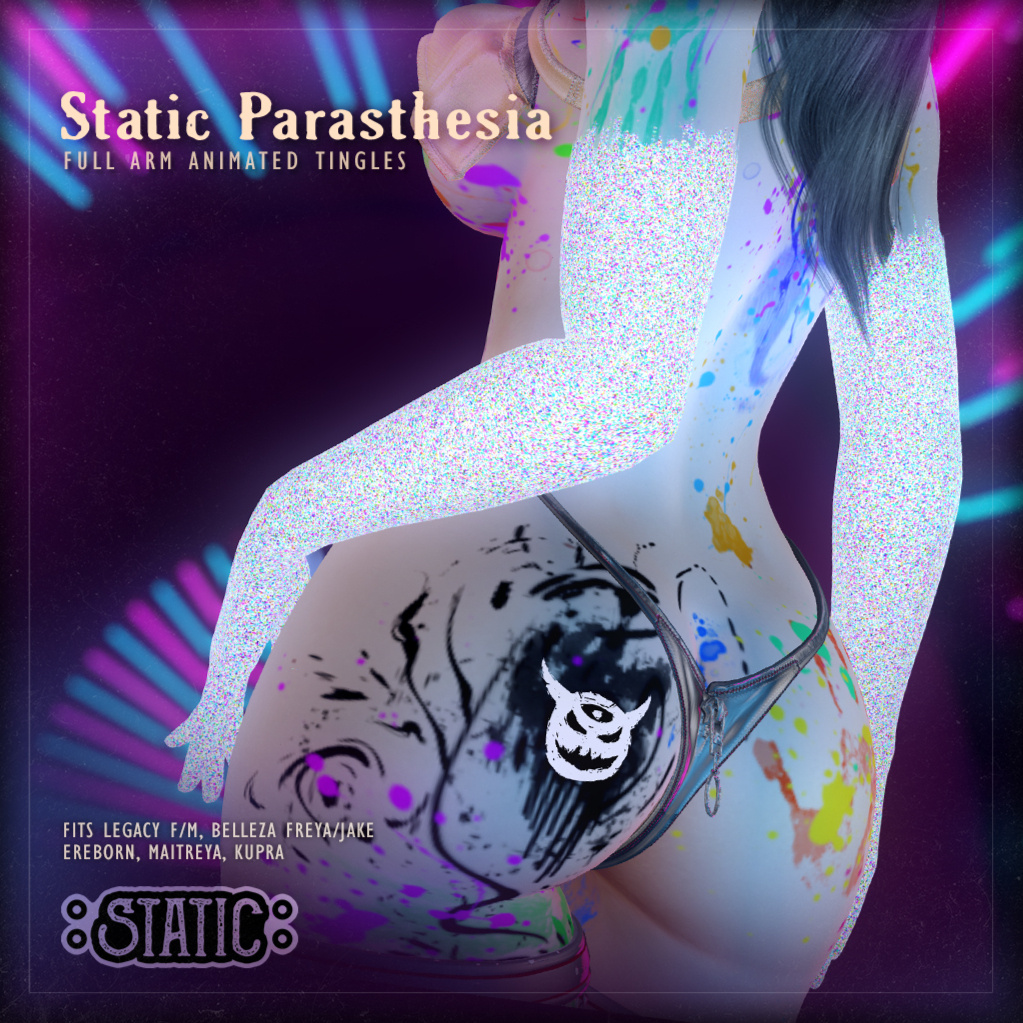 ::Static:: Static Parasthesia Multicolor
SEKA's Almost Top (Legacy)
SEKA's Pin Panty
Spoiled - Bratty Nipple Patches
Hair - Stealthic - Allure
THIS IS WRONG Devil tattoo
THIS IS WRONG Owned tattoo
THIS IS WRONG Pollock tattoo
Legacy Female Body
Backdrop - FOXCITY No Doubt (With Lights)
---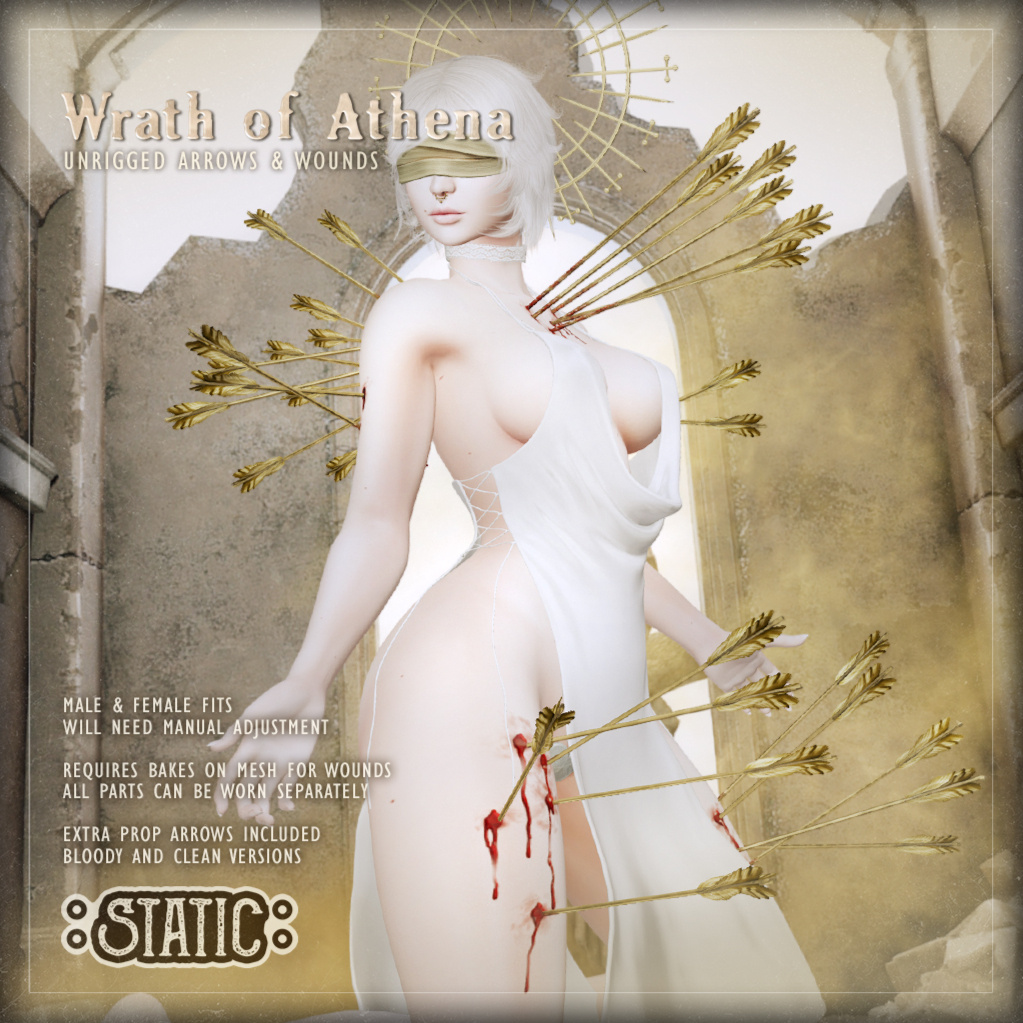 ::Static:: Wrath of Athena
::Static:: Royally Laced Choker {Pure}
Hair - [Yomi] Andromeda Hair
Dress - Moon Elixir x MUSE - Moonlit Secret
.Tardfish. Infinate Halo
Clover - Blinding wrap
Legacy Female Body
Backdrop - MINIMAL - Achelois Ruins
---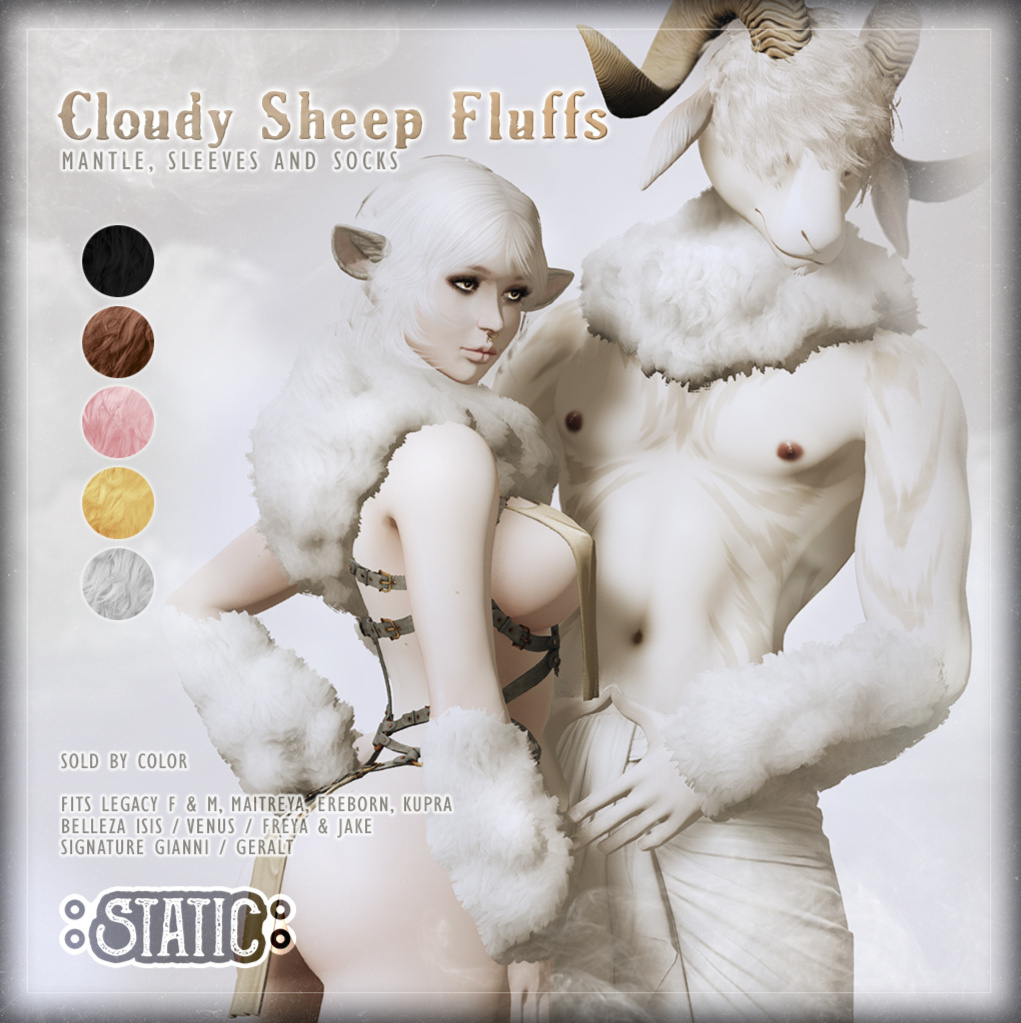 ::Static:: Cloudy Sheep Fluffs
Female:
::Static:: Leatherbound Harness
Sweet Thing. Nara Ears (Non-Rigged, Static)
[Yomi] Andromeda Hair
Legacy Female Body
Male:
Hair - Dura - U95
Head - [RL] OMEGA MALE - GOAT - SILVER
(Head texture custom for ad - not for sale)
Skin - :AETHER: M FADED LIGER - LUNE BOM MODKIT
:AETHER: LEGACY M BoM Nipples - NATURAL
[Razzicle] Corsican Ram Horns: Light Brown
Sweet Thing. Nara Ears (Non-Rigged, Static)
Noche. Auryn Sarong White
Legacy Male Body
---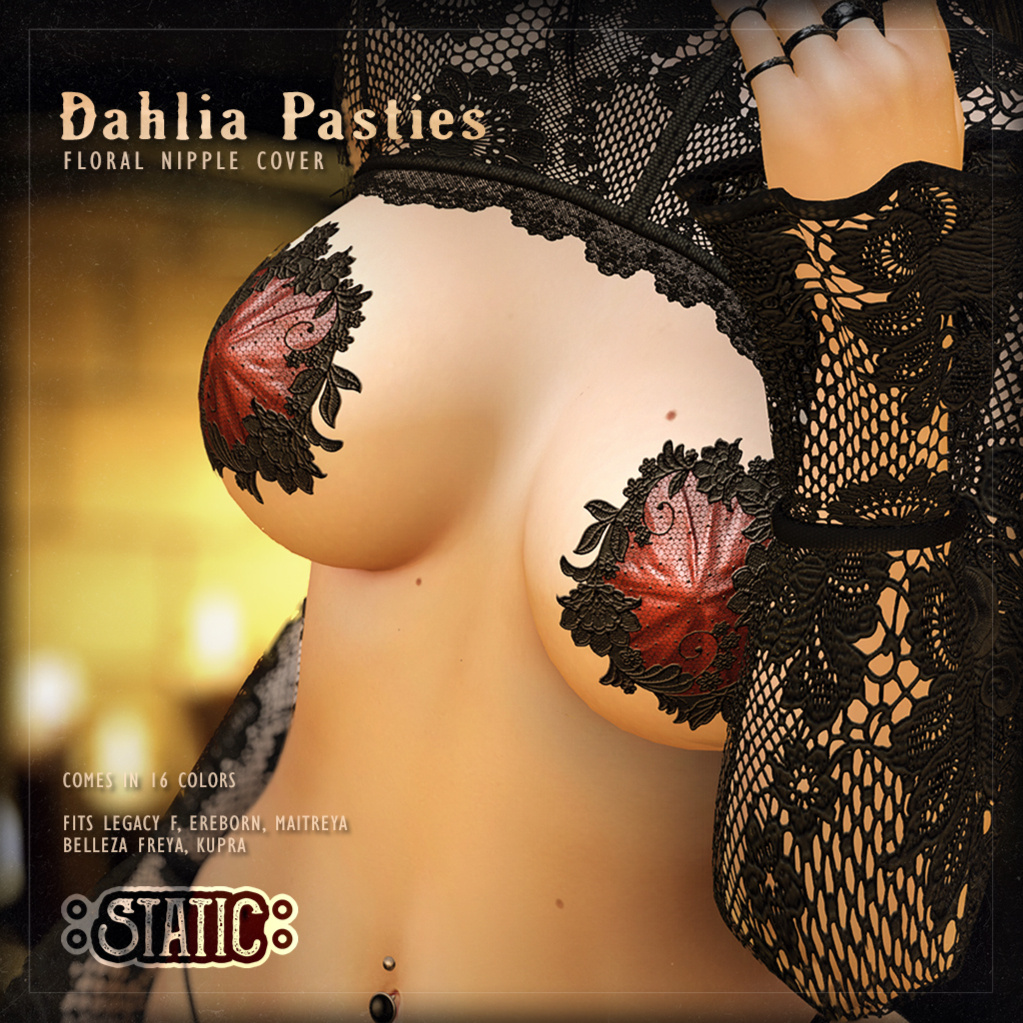 ::Static:: Dahlia Pasties
Moon Elixir x MUSE - Cursed Heart - Legacy - Bolero
Otaku. Yui G-String / Dk Black
RAWR! Chronos Rings
PUNCH / Navel Piercing / Pearl
Legacy Body
Backdrop: VARONIS - Ascelin Skybox
---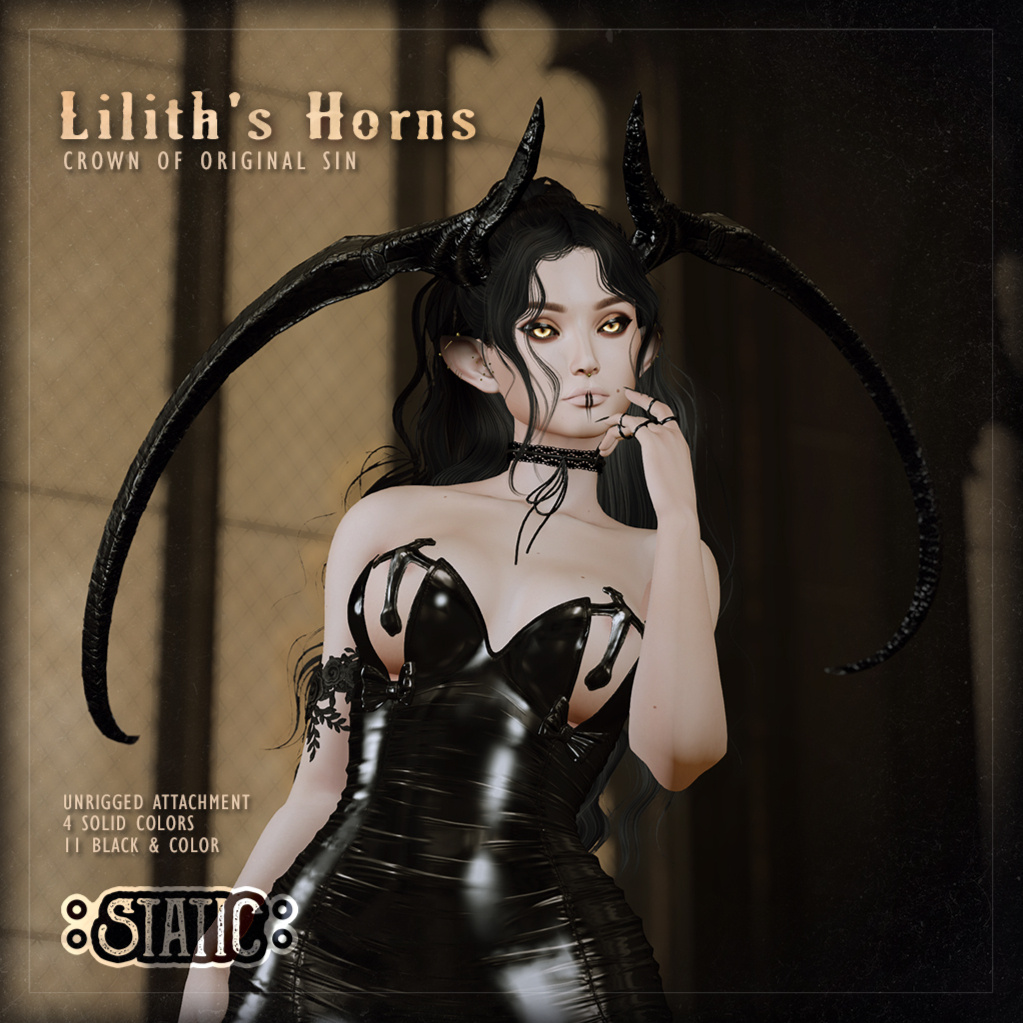 ::Static:: Lilith Horns
::Static:: Agrace Choker Black (Limited Gift)
Lilithe'// Morrigan Tattoos - Double Line - Fresh
[Salem] Lilith Pasties
Moon Elixir x MUSE - Divine Temptation
AURICA Maya Dress
RAWR! Chronos Rings
[monso] Jennie Hair
Legacy Body
Backdrop: VARONIS - Ascelin Skybox
---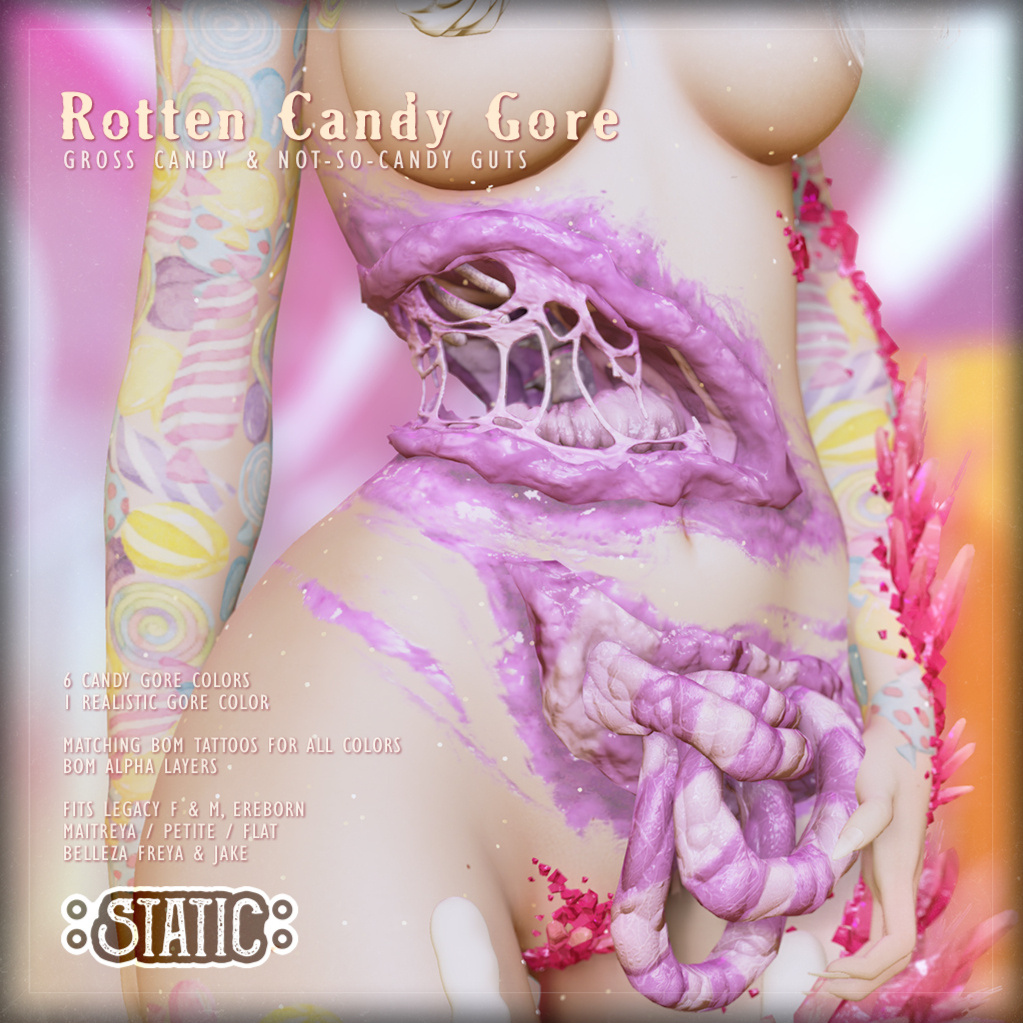 ::Static:: Rotten Candy Gore (purple color)
::Static:: Chrystalline Armor {Tourmaline}
THIS IS WRONG Candy tattoo FRESH BoM
Spoiled - Whip Cream Tease Classic
[Cynful] Stripper Dust - Legacy
Legacy Body
Backdrop: BROKEN ARROWS - Ice Cream Backdrop - Candy
---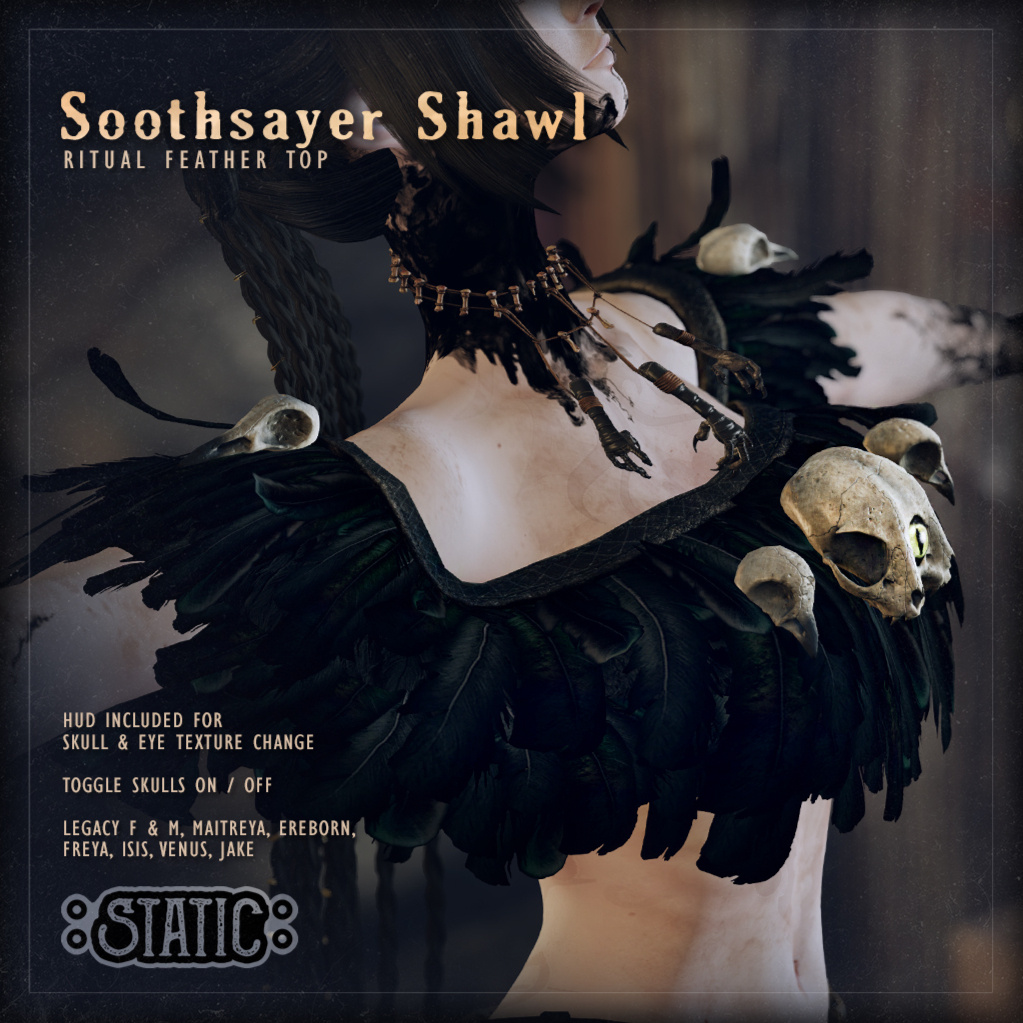 ::Static:: Soothsayer Shawl
THIS IS WRONG Wicked tattoo BoM BLACK
THIS IS WRONG Hela tattoo BLACK FRESH - BoM
TF: Machinist (F) :: Chest - Light (BoM) 75%
:[Plastik]:-Tribal Tattoo-T-Light-Tintable
Izzie's - Dirt light
Hotdog+Nekros - Bad luck charm
Raven Bell - Adel Hair
Legacy Body
---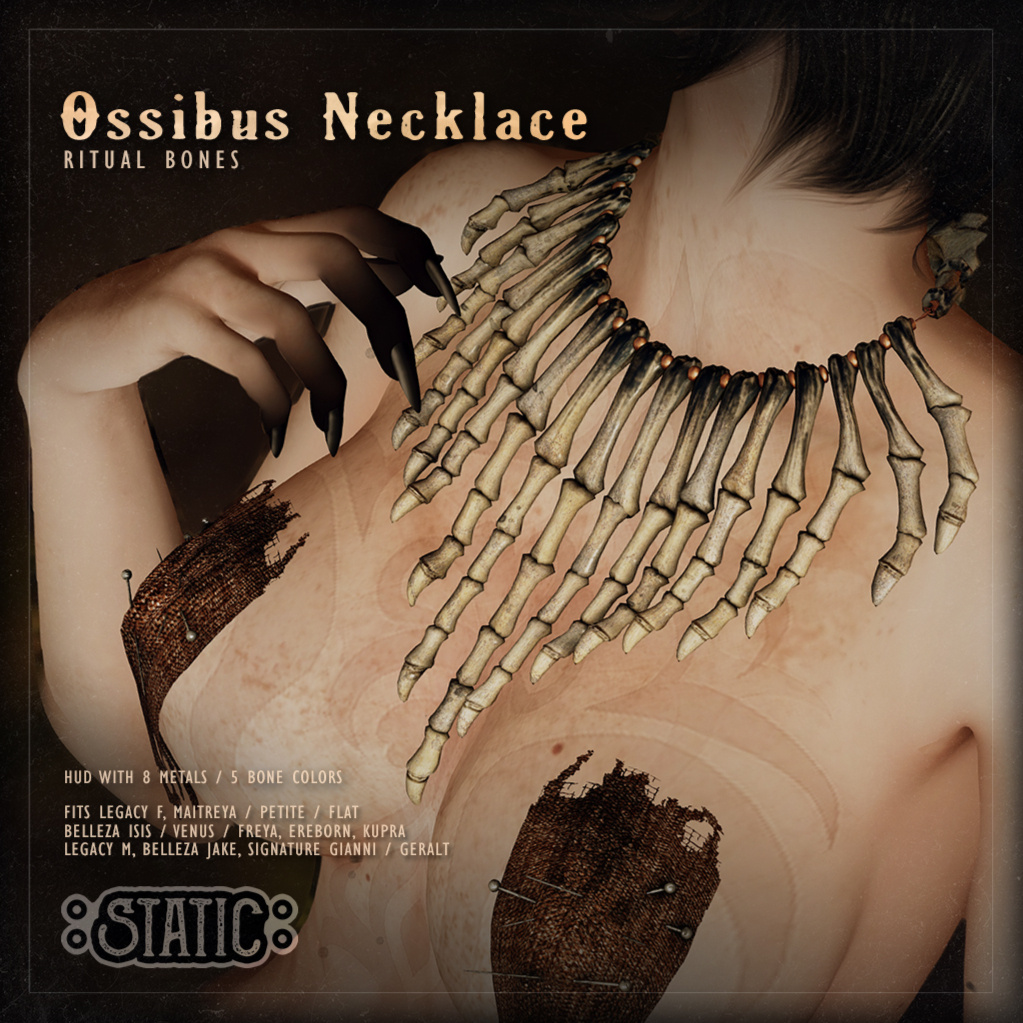 ::Static:: Ossibus Necklace {Natural}
Nip Covers by me, currently unreleased.
[Yomi] Andromeda Hair
:[Plastik]:-Tribal Tattoo-T-Light-Tintable
Izzie's - Dirt light
TF: Machinist (F) :: Chest - Light (BoM) 75%
Lilithe'// Rabies Tattoos - Fresh [FINGERS ONLY]
Legacy Body
---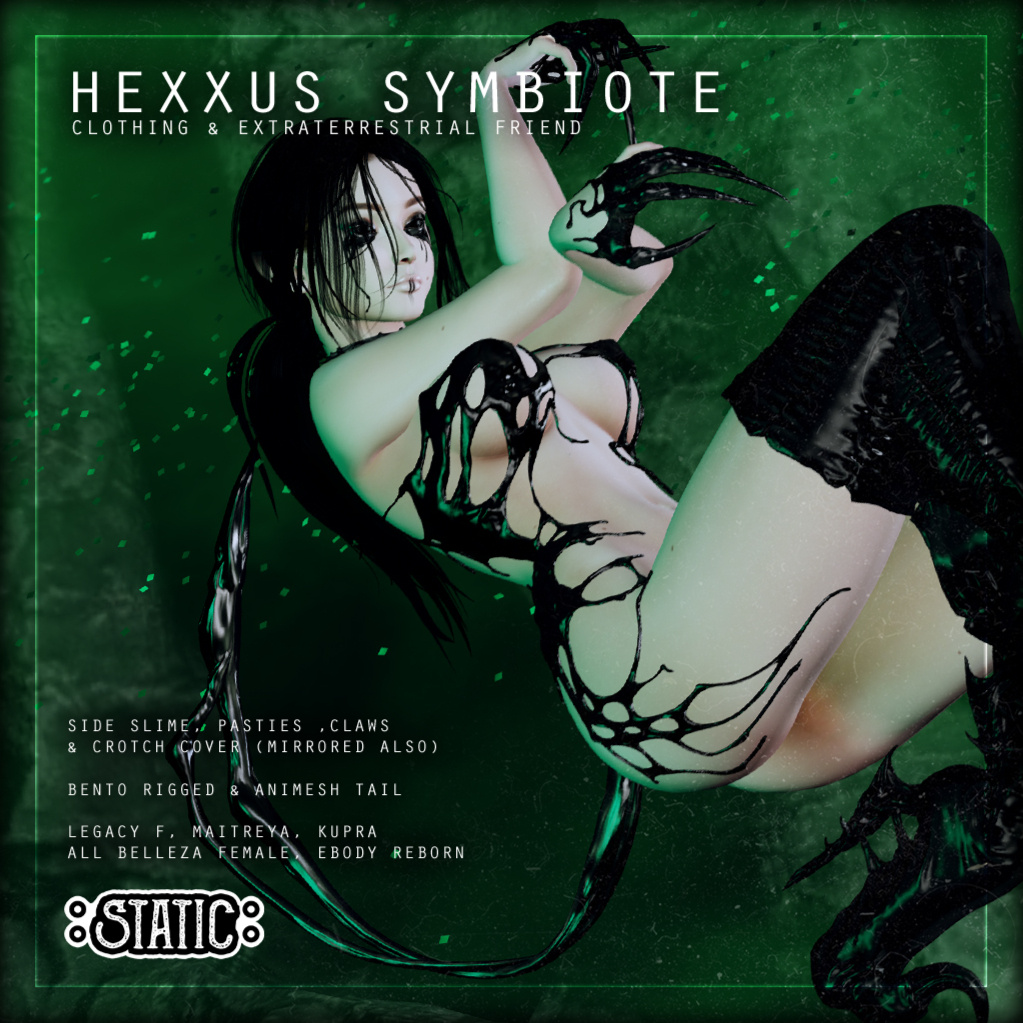 ::Static:: Hexxus Symbiote {Black}
::Static:: Hexxus Symbiote Eyes (gift)
cinphul // raptor [boots]
HUMAN GLITCH // XVII / COLLAR
Hair: no.match NOBREATH
Legacy Body
Backdrop: MINIMAL - Solitude Scene
E.V.E KOI (MOD) Square Confetti Ring
{anc} mist cloud [sungold]
---
::Static:: Moirae Veil {Atropos}
::Static:: Fae Embers
{GHOSTED} Hemomancer BOM Tattoo
HUMAN GLITCH // NVWKY / TATTOO BLVCK
[Cubic cherry] {Infection} wounds RED
[NC] - The Seer - Top Torn Black (Gacha)
Hair: Stealthic - Lilium
Legacy Body
Building: DRD Swamp Shack
Ropes & Pose: FOXCITY. Dream Catcher Bento Pose Set
---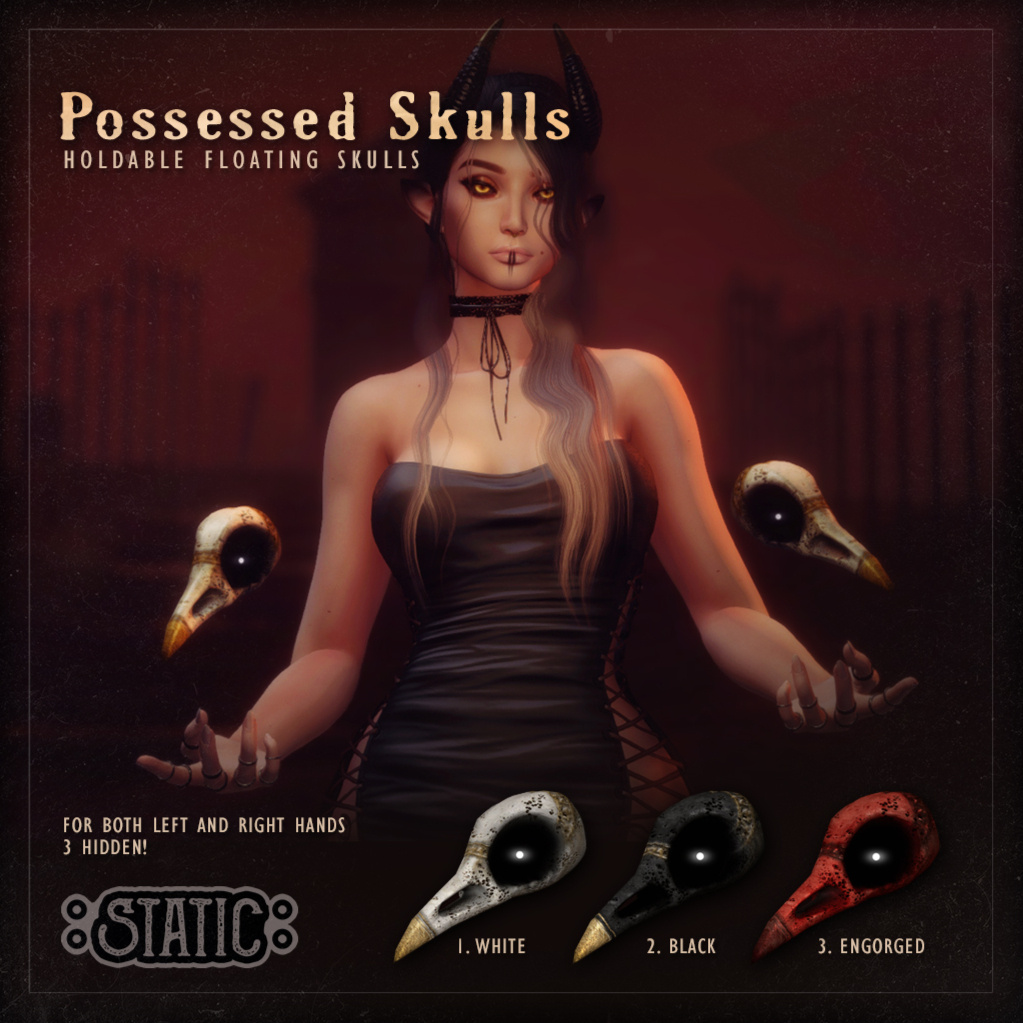 ::Static:: Possessed Skulls
::Static:: Agrace Choker (unobtainable)
LVL9 Efreet Horns
AdN Dress for Legacy
RAWR! Chronos Rings
Hair: Raven Bell - Soleil
Legacy Body
Skybox: Minimal - Graveyard Scene
---
::Static:: Reaper's Hood {Void}
HUMAN GLITCH // NVWKY / TATTOO BLVCK
HAZEL - Bloody nose BOM
[Cubic Cherry] {Insight} mask BLACK
[Cubic cherry] {Infection} wounds RED
[Cubic cherry] {Infection} wounds hands BLACK
Coffee Paws - BOM Markings - Dark Matter
THIS IS WRONG Mind Flyer tattoo
Scythe: [CerberusXing] Wasteland Reaper
Legacy Body M & F
Backdrop: [CerberusXing] Crucifix Corridor
---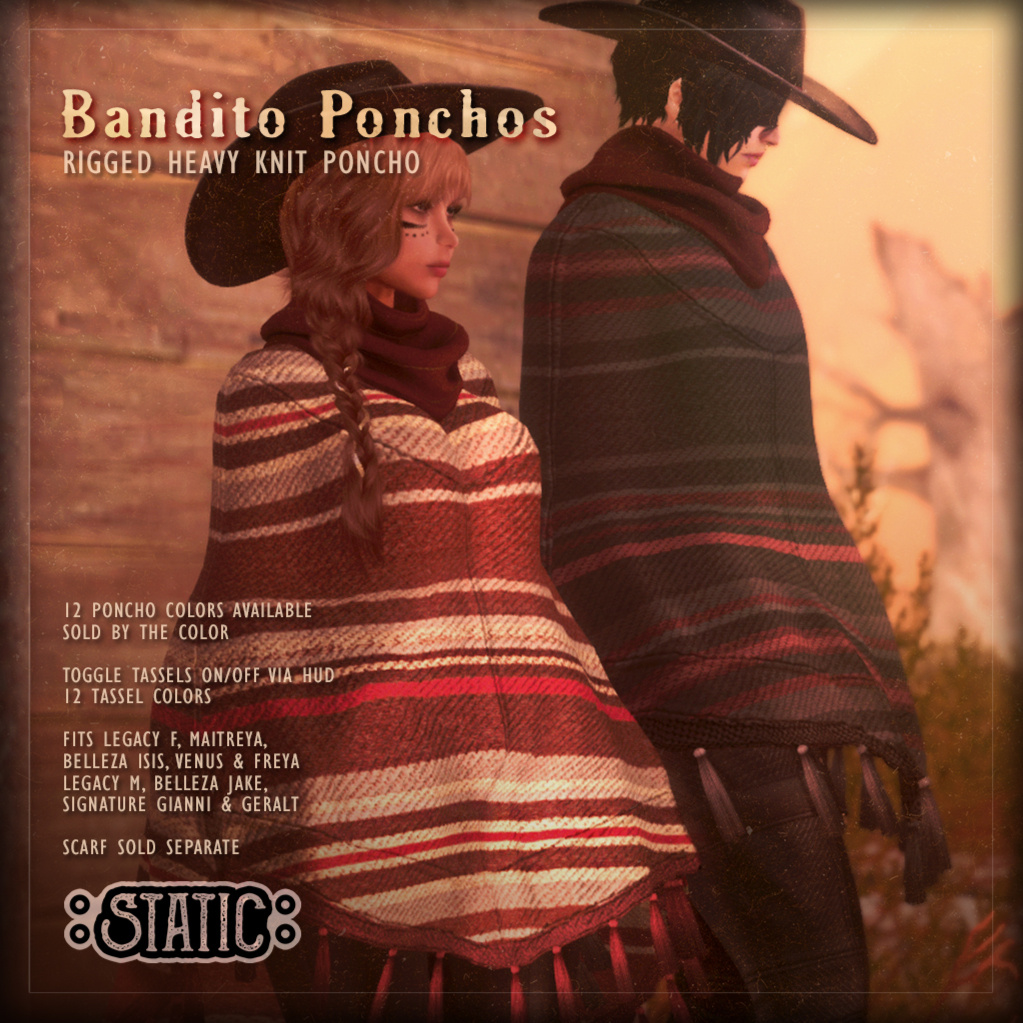 ::Static:: Bandito Poncho (Mesa & Outlaw colors)
::Static Bandito Snood
Female Pants: Toksik - Leather Leggings (Black)
Male Pants: Toksik - Invasion Pants
Toksik - Varmint Hat
Female hair: Magika - Cassiopeia
Legacy Body M & F
---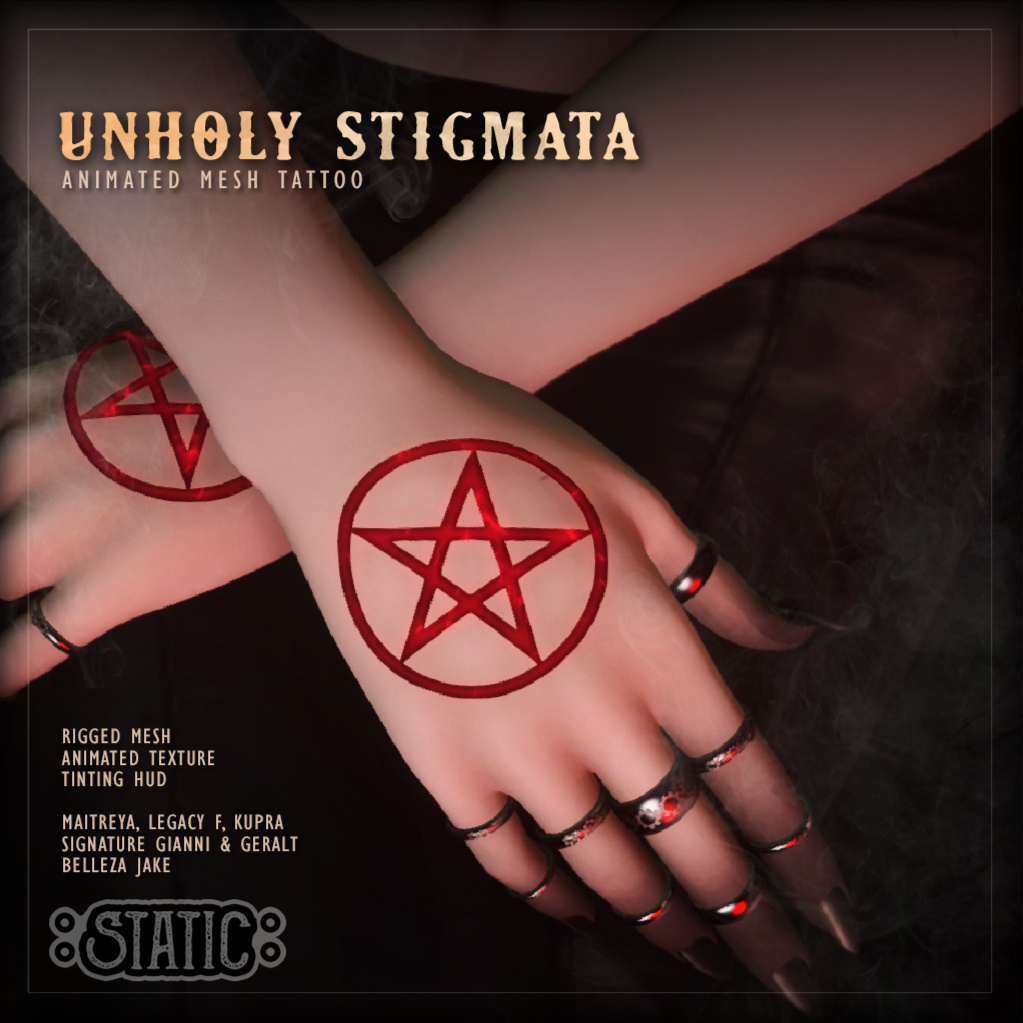 ::Static:: Unholy Stigmata
Toksik - Leather Leggings (Black)
RAWR! Chronos Rings
Legacy Body
---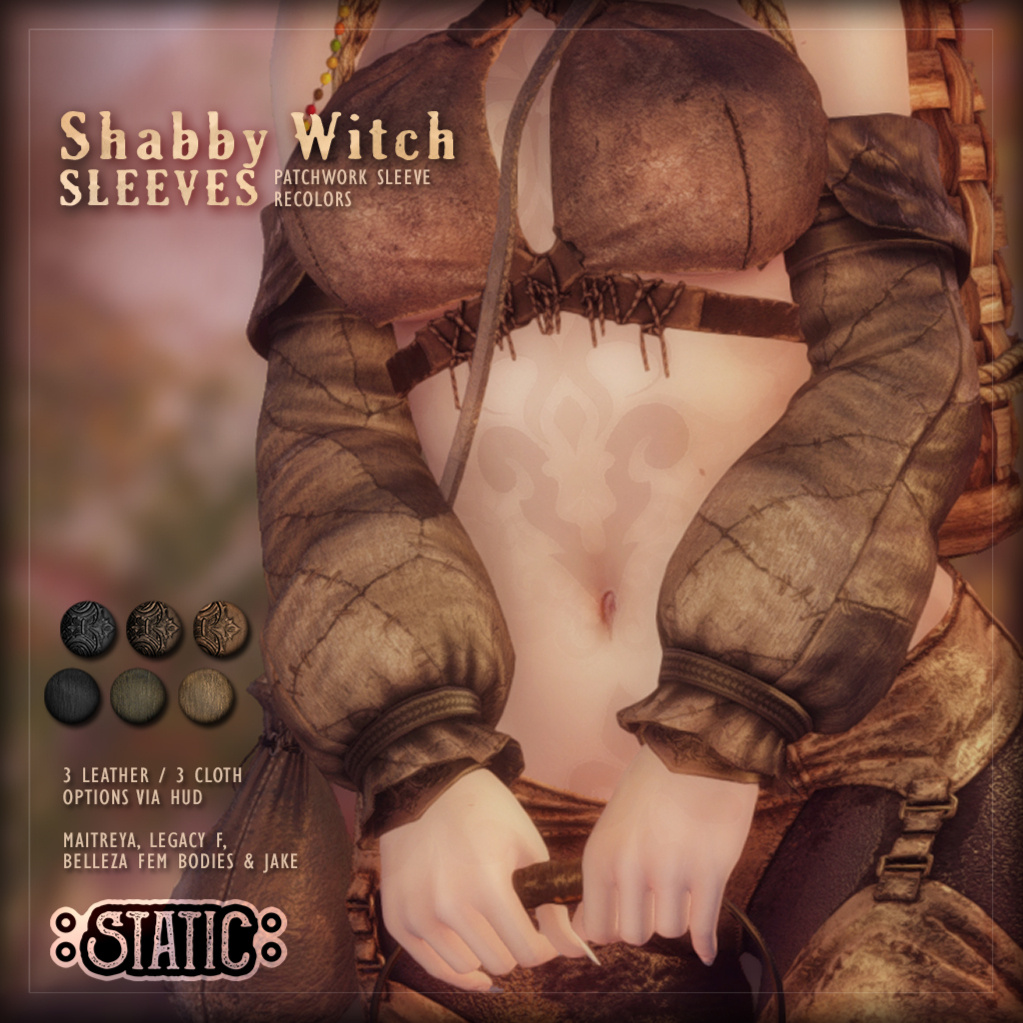 ::Static:: Coinpurse (Tan)
::Static:: Shabby Witch Sleeves
::Static:: Potions Cauldron
PFC Leather Top
PFC Leather Pants
Old World Mushroom Basket Backpack
Plastik/Petrichor Tribal Tattoo Light
Legacy Body
---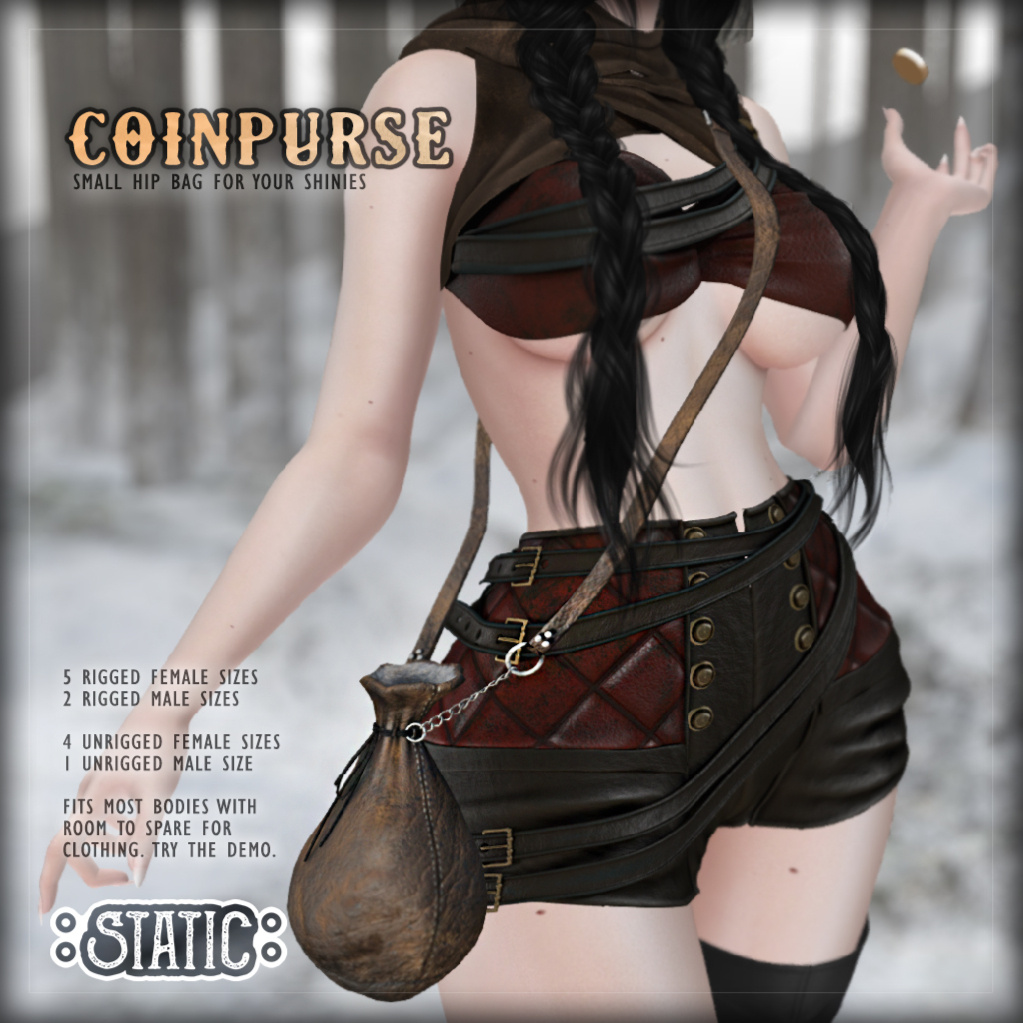 ::Static:: Coinpurse (Tan)
(A)MAZE Chaotic Girl Shorts
(A)MAZE Chaotic Girl Top
Hair: Magika - Autumn
Legacy Body
---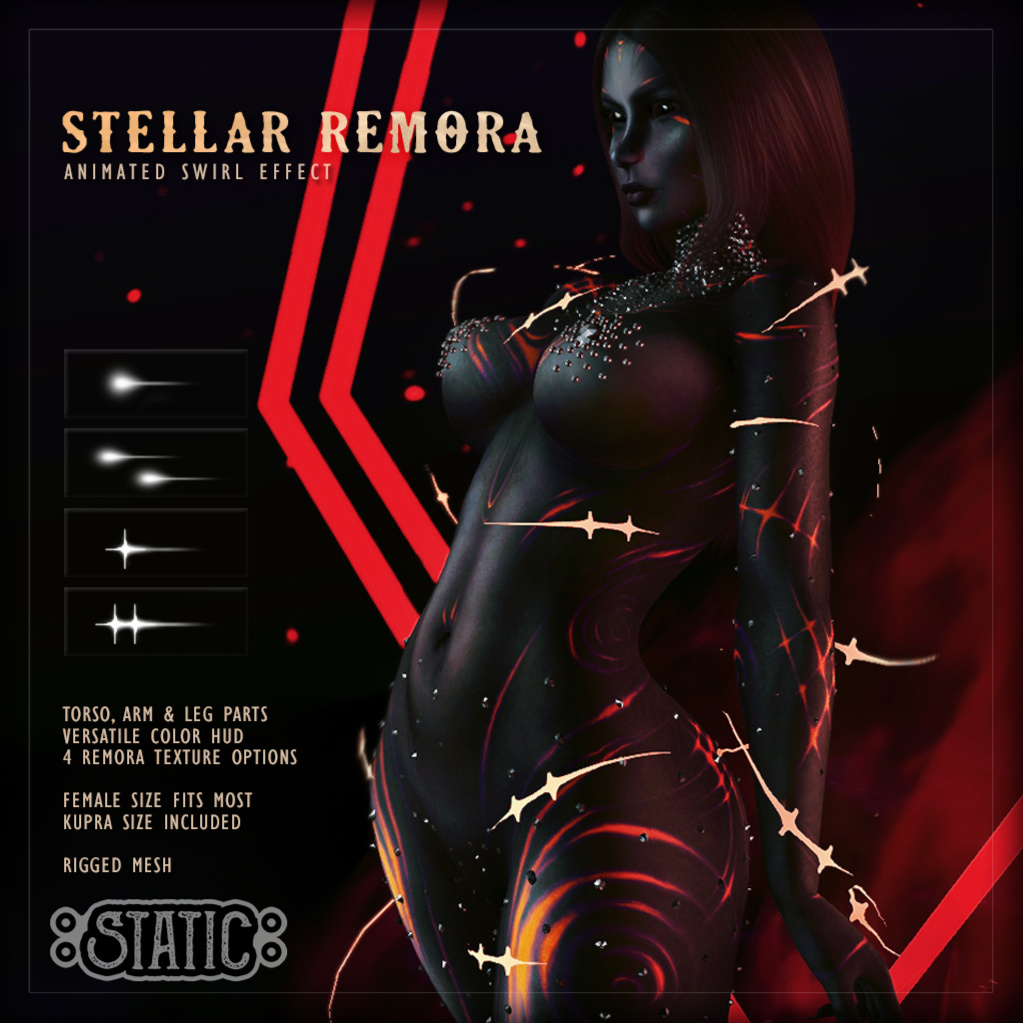 ::Static:: Stellar Remora
FAKEICON Mary Gems Collar
FAKEICON Poxic Gemsuit
Moon Elixir x Muse - Dripping in Luxury Pasties
Hair: Foxy - Altair
Skin: Petricor/TRAP Kalari Vors
Legacy Body
Skybox: Minimal - Exile Scene
---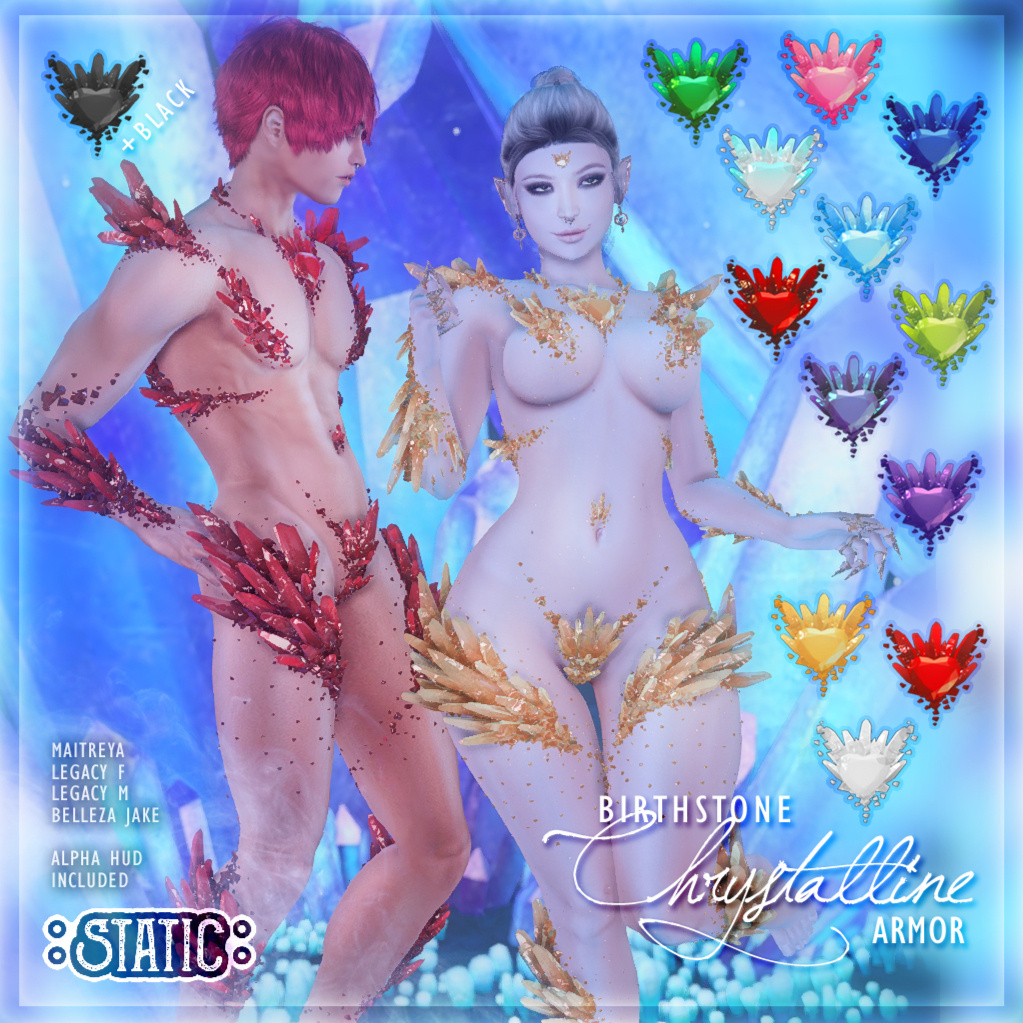 ::Static:: Chrystalline Armor Citrine (female model)
::Static:: Chrystalline Armor Ruby (male model)
Head jewel: Freebie from Crystal Heart Event (no longer available)
Rings: PENDULUM - Avioch Legacy F Gold
Ears + Earrings: Petrichor Matevari Ears (gacha)
Hair Female: Magika - December
Legacy Body M & F
---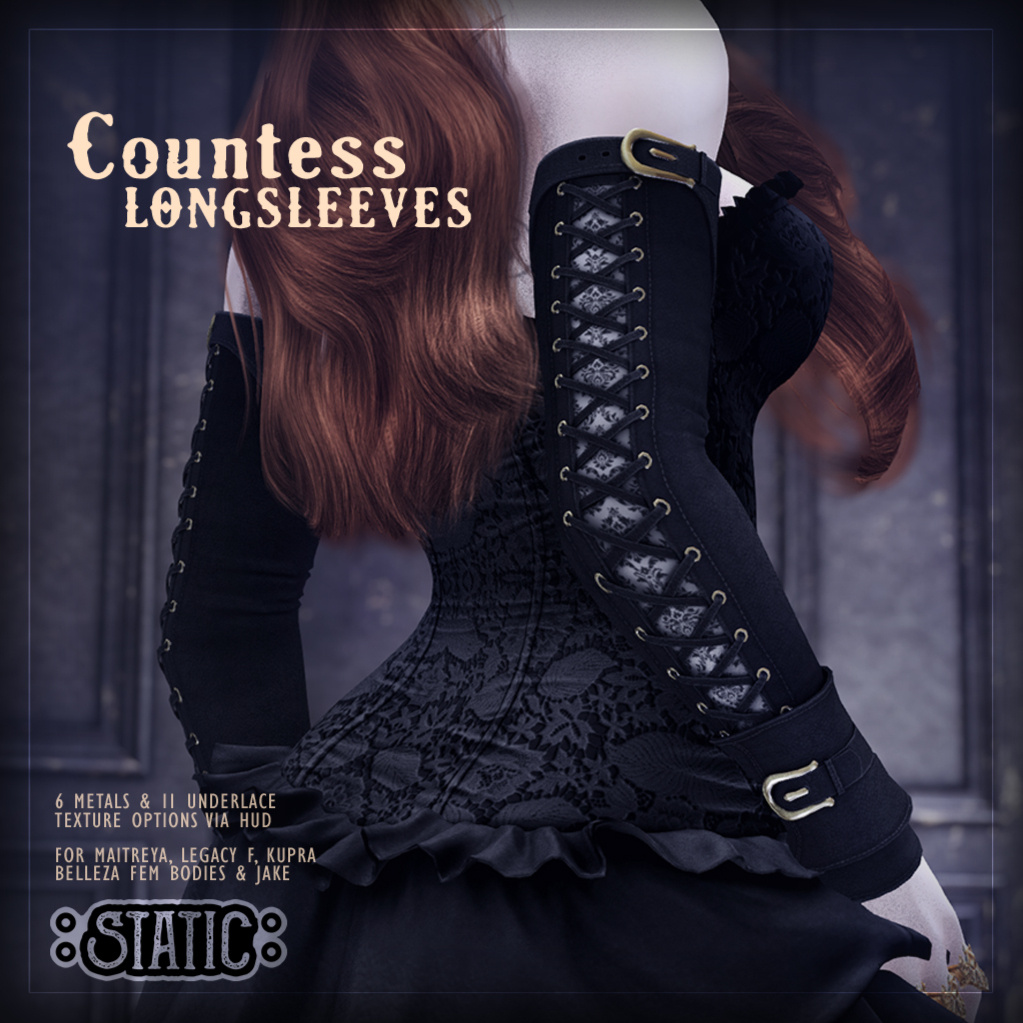 ::Static:: Countess Longsleeves
Just BECAUSE - Sabrina Dress
Rings: PENDULUM - Avioch Legacy F Gold
Hair: Stealthic - Porcelain
Legacy Body
Skybox: ChiMia - Marais Apartment Black
---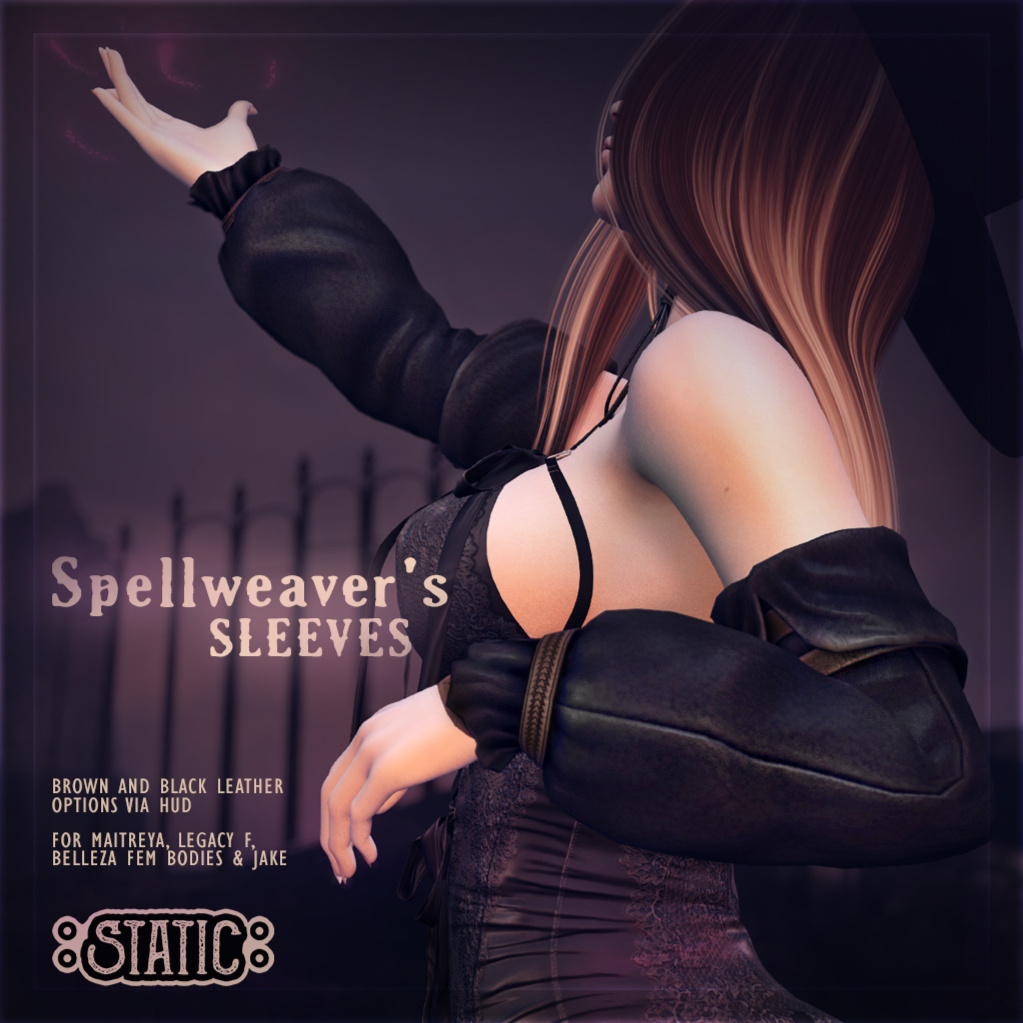 ::Static:: Spellweaver's Sleeves
Top: Violent Seduction - Nyx (black)
Hair: DOUX - Coven (with hat)
Legacy Body
Skybox: Minimal - Graveyard Scene
---
::Static:: Thunder God/Goddess BoltsMALE:
PFC ~ Caesar JAKE Stole (clean)
CerberusXing Kronos' Crown (Gold)
Belleza Jake BodyFEMALE:
CerberusXing Kronos' Crown (Black)
ADN Dress
[RA] Wicca Hair
Magika - Bangs - Cassiopeia
Lilithe'// Rabies Tattoos - Fresh
Legacy Body
---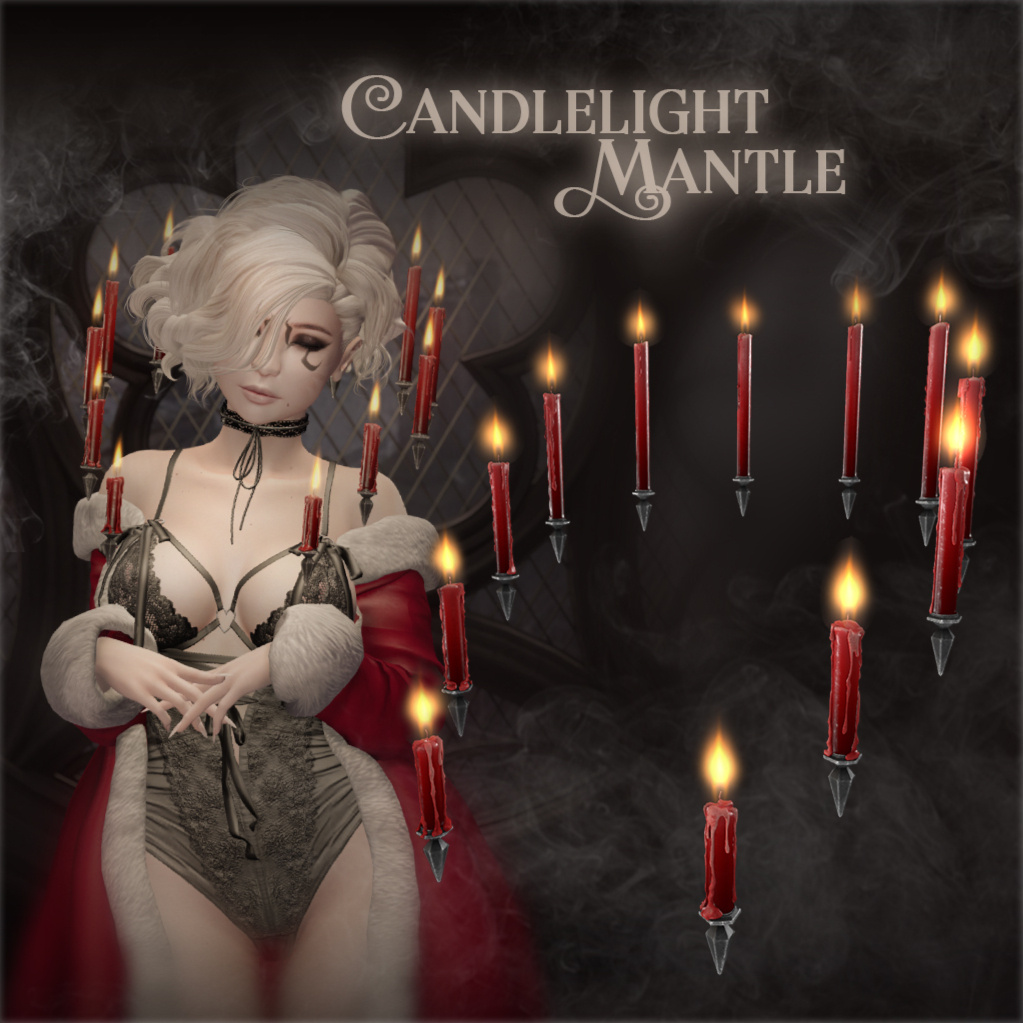 ::Static:: Candlelight Mantle
::Static:: Agrace Choker Black (unobtainable)
Lingerie: Violent Seduction - Nyx
Just BECAUSE Yula Coat - 16Red
Hair: .Olive. the Audrey Hair [Non-Rigged] - Greyscale (Gacha)
Legacy Body
Skybox: VARONIS - Verendus Skybox
---
Copyright © 2021 ::Static:: All rights reserved. | Site made using Carrd | Photography by either Hensa Umia or Nama Gearz